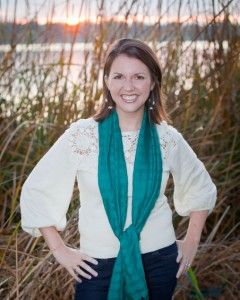 Ann Higginbottom is a Texas native, but she escapes to the beach whenever she can. During the summer time, she grew up on the beaches of Amelia Island with family. The natural beauty of Amelia inspired her current work of writing and photography.
Ann is the author of multiple books including The Work of the Lord: Seaside Reflections, a collection of thoughts, poems and original photography inspired by her time on Amelia. Her newest release is a children's book, Turtle Sunrise—based on the sea turtles that call the shores of Amelia home. The book is a tale of three sea turtle brothers and their adventure to the sea. It is based on actual ocean-side events and will enchant readers and children of all ages.
The art of photography has been a natural progression for her—capturing sunrises at the beach and now chasing a busy toddler. She loves focusing on life as it naturally unfolds—from the first moments of a newborn…to festivities of high school graduation…to the chaotic fun of family Christmas cards.
Ann lives in Dallas with her husband Robby, their son Will and pup Maverick. They are active in the ministry of their home church, Park Cities Presbyterian. Ann Higginbottom Photography is a culmination of things that she loves—family, photographs and writing. It is a joy to play a part in capturing life's moments that make you pause and consider the goodness of God.
Contact Me
Comments or questions are welcome.